THE BLOG
Tim Ruscoe "Around the World in Thirty Days"
It started with a phone call 'Do you want to go round the world?' 'Well why not, sounds like it may be interesting.' It was. From seeing the Golden Temple Japan to flying into a riot in Nairobi! First, Virgin economy! How can you sleep on the Red Eye in a seat designed for a ten-year-old? I arrived in Dubai and went straight to the production house, over 30 staff, all very busy. My brief was to direct a film shoot and interview people that had made it to the last 15 finalist in a competition. They were to be reviewed by a panel and selected as the winners of five categories; Large, Medium and Small Organizations, Global High Schools and Lifetime Achievement, with a cash prize to the winners apart from the large cooperation's. My cameraman and I were one team and had seven of the finalist that are on the right-hand side of the world, team two had the left side, Europe and the Americas.
The travel agent was working direct from the client side and not part of the production house. Their brief must have been 'keep it cheap and muck'um about if you like', so they did! Our first destination was Shenzhen, just two hours up the road from Hong Kong. But no, we went via Beijing! With two hours to get our luggage and equipment, go through customs with all the right paper work the Chinese government could want, then catch a bus to terminal 2 (that is the old airport 30 minutes down the road), we missed our non-refundable connection and paid $660 for the next flight down. 'Keep it cheap' was not working.
Our first shoot was a company involved in solar energy to environmentally-friendly made battery technologies to power electric cars, thus reducing car emissions and save the world that we are all killing. The interview was in Chinese, translated for us by a nice chap that studied at a British university. Apart from the background noise of cars being made, it was fine, now to film the 'B roll', the cut-away stuff to make the interview come alive! First stop battery manufacturing, we were driven in an electric bus to the battery site reception; on the wall was a sign 'NO PHOTOGRAPHY', a joke? No, they wouldn't let us shoot inside. Instead we filmed an animated graphic on a flat-screen wall mounted monitor! They make them too. We filmed the car instead with the batteries included, so it all worked out fine in the end. It was my birthday and the hotel had spotted this and in my room was a chocolate cake that we would eat on the way to the airport at 2am! Another little gift from that travel agent!

Moving on, we needed to go to Japan - that's up a bit and to the right but we were flying to Bangladesh, in the other direction. We were going via Kunming, with its state-of-the-art airport - China is scrubbing up well you know! On the other side of the coin, we land at Bangladesh where the airport is confused at best, however, our next contestant had sent a driver to pick us up. What happened next is the stuff that 'Auto-killer-road-rage X-Box games' are made of; on the drive to our hotel I had kittens! We arrive at our quaint hotel to be saluted, did the British pass this way once? We had the evening to fill so out on to the streets of Dhaka, my cameraman is so pumped up, and there were fantastic images to catch. Off the main road was a gloomy path with fast-food venders Dhaka-style and the far end is the biggest vegetable market in town. Now I'm thinking, have we got 'MUG ME' written all over us? Camera alone must be $5k and I have the pocket money! For the love of art we went in, the photos, oh so good and the people were welcoming and fun, what was I thinking?!

Bangladesh is work in progress; some rural areas have no electricity, they're not on the grid! The 'Not for profit' company we were filming here make and sell solar home systems. Priced at the cost of lamp oil used in a month, the villagers pay for the solar power lighting kit in 2 to 3 years, after that it's free. The company employs the same villagers, most of them women, to assemble, install and maintain the systems thus reducing poverty. The filming was wonderful, the village conditions, the people living there and the colour of everything. If it was my prize to give, it would go to this lot. Japan via Bangkok, a short-cut! TOKYO, now there's a town on the grid, more lights than you can shake a lightsaber at. I would have had absolutely no chance of finding my way around Japan, English is not that popular, spoken or written, but I had the answer to this, my cameraman spoke Japanese! Thank you Sheffield University. Everybody here has a fashion statement to scream at you, one group with bouffant hair, multiplatform shoe, skinny black pants and fur accessories thought my substantial hairy growth on my top lip was the funniest thing around that night.

School time, our first of four schools to film. These teacher chaps were NOT interested in the video at all and it was like pulling teeth to get them to be useful. First thing they tell us 'we can't film the children!' We pointed out that, 'it won't look like a school then?' The interview was staggered as the head didn't learn his lines - must try harder! We finally got them to let us into a class and the children did bring it to life. They made recycle shopping bags, showed us how to compost old vegetables gathered from local shops and how the school recycle rainwater to the loos. Happy giggling girls to end on. This school had everything you can wish for, a domestic science classroom that would put 'Master Chef' to shame! If they win I hope they give the prize money to the state school next door, just for giggles!

What is the fastest way to get from Tokyo to our next competitor in Osaka? The Bullet Train at full speed! The company makes solar panels, was very interested in making a good film and the people were great to work with. The production line robots danced around like Bruce Lee in Enter the Dragon; spinning, flipping and cutting the panels into shape before the flaming heat baking them. Thirty years ago they donated a solar lighting system in a local Temple to light a giant Buddha; we filmed this little gem working it into make the story more human. Osaka city is like Tokyo they too find the moustache amusing…

Back to Dubai to drop footage off and three days to rough edit the work so far. 3am fly to Kenya.

The Nairobi seen on the BBC was a war zone! But when we arrived it was peacefully going about its day, the only pressure I was under was to buy some root vegetables from a street trader. We got picked up in a 4x4 and driven out to where the roads stop and tracks begin. Some hours later, we arrived at a handful of mud huts, the home of 17 Masai Mara and their livestock. Obviously not on the electrical grid but thanks to small solar lamps we see how their lives have changed. One of the sons told us about the time a neighbor's house burnt down when an oil lamp got tipped up. The family agree that the solar lamps have improved their lives; the children have got better at their school work as they can study at night and Mrs Masai can make more colourful beadwork to sell. I asked if they have a song they can sing for me, now how many families do you know that can do that at the drop of the hat? The eldest girl starts with the rest of the children meshing in, then out of the blue they all start to, well, pogo! I can still hear the sound of flip-flops flapping on feet as they jumped up and down. The shot for me was when I choreographed the mother holding a solar light at night walking in to the cookhouse then, out of total luck, a baby followed her and, as if he was right on cue, stopped in the doorway for a bit before tottering in for a hug! IN THE CAN!

Second school was in Tanzania, except there are THREE schools that have got together, they are different in that one is high in the green mountainside, another is down on the very dry hot flat lowland, with the third in the middle, and they all want different things if they win the competition. Lowlands would like a Wind turbine, Midlands Solar power, and Highlands Biogas because of all the greenery around them. The children at this school makes a circle holding banana leaves to show where the Biogas tank will stand, a girl speaks and they hold up the leaves, (reverse shot from the inside) art! The Lowlands girl stands on the spot the wind turbine will go and the Midlands boy tell us that the old solar panel has broken and a new one is needed. What a lovely bunch of people, the only thing I would change if there was a next time is that every time the driver picked us up in the car he would NOT have two of his mates come along for the ride! It was a little cramped. If this school wins it will be money well spent.

Now I don't know about you but Swaziland for me sounds dry and dusty, but in the taxi from the airport to the hotel it was green and lush; the hotel has a golf course, lawns and a bowls green, as we sit by the pool we wonder if we are in the right place? I am told there is a harsher side to Swaziland that we will see later. This was the third school on our travels; it was famous in the time of apartheid in South Africa. Now it's famous for the top quality of students it has from 55 countries, half being on bursary support and coming from devastated backgrounds to become leaders. The school is falling apart as if they spend a small amount of money, on things like making the building better, a child would miss out on a free education. An old teacher tells us about how some of her children have suffered in the past, seeing their parents shot and killed. Some come from a child led family were the eldest take over the role of head of the family because their parents have died from Aids. This school takes a broken child and makes them into a well-educated young person. The prize money can fix the bits that are falling off but the heart of the school is strong. We need more prizes!

On to India, the forth school and last shoot, the travel agent has the last laugh. Land in Goa at 4am to be picked up at 10am from the airport hotel, short nap then breakfast, before a five hour travel through the jungle on a part-made potholed road. The driver sent from the school is late; he has just done the five hour trip and will now turn round to do it again with us. 'Your driver is here' we are informed and looking up our man was standing next to a big shiny 4x4 Toyota. We followed him to put our gear in the back, but no, we walked past the shiny truck to an old 3 door hatchback. He opened the back to show us that he has a Base Subwoofer Box and no room for our kit. So the kit and cameraman go on the back seat, I pull my front seat forward to make room and we are set, let's go on the worse car journey I have ever had.

It was a music school with children from socio-economically disadvantaged backgrounds, teaching them music and dance alongside their academic studies to realize their full potential. The main challenge for the school is a lack of reliable electricity, leading to blackouts; a nice big solar panel would do the trick if they win the prize. Our footage shows that all these poor little blighters now have a chance, we stay in one of the mud huts and eat with the students, rice and beans for breakfast, lunch and supper. The head teacher tells us what they are about; to keep this regions traditional music going through the children, a fool could have made a beautiful film out of this, and we did.


When To Use a Cartoon
"At simply-communicate we know that cartoons are magnets to draw our readers' attention so we can land messages with impact. And Tim's work is both funny and memorable - whenever an article is illustrated with one of his jokes it gets twice the attention."
- Marc Wright, Publisher, simply-communicate.com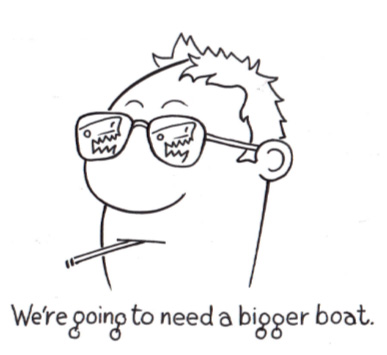 A phrase originally used by the well-known actor Roy Scheider in the 1975 blockbuster 'Jaws'. He utters the line when he gets a good look at the size of the shark that is circling the small fishing boat he is on. Used in day to day life when a situation seems insurmountable. The film crew when making Jaws use this line all the time to indicate any problem that popped-up, a short cut to a description as to what is required to sort a job out but in a humorous way.
We use humour in so many ways, to emphasize a point, to change a relationship or a way of seeing the truth. Like irony! They say Americans don't get it, 'We're going to need a bigger metaphor'
Getting your story told by communicating in words can have its problems with holding the attention of the reader, in film there is always something going on visually to hold the viewer until the interest returns, reading a dull section can switch you off and that is why illustrated text came in to being.
What do you get from this Six Nations Rugby blog banner with its French Title?
The blog described the way England play to the way the French move the ball around, making for an interesting battle, so the differences depicted are intriguing in many way to the reader. The idea of actually eating a snail is hilarious!
I illustrate with cartoons for Internal Communications, helping to tell a story, engage and entertain, by challenging the reader to interact with the writer as to what they have seen.
A piece on booking the right venue for a meeting-
Feedback-
''You think that's funny I had that experience at...''
''Is that the Matterhorn mountain in the background?''

Being sympathetic to someone's lot show your understanding of a situation, helping to keep morale up. Let the team's feelings about the difficulties and changes that are going on be recognised, to say ''Hard luck but move on" won't help these feelings and only result in employees becoming disengaged.
Pitching for a contract and not winning can be devastating, yet you must bounce back and do it all again and better! Maybe it wasn't your entire fault...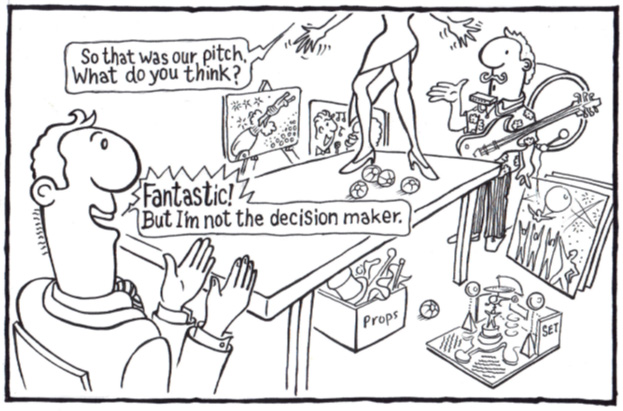 Celebrate victories and examples of excellence both formally and informally. During times of difficulty, it is especially important for employees to feel like winners.
For some situations you have to be in the know to get the joke, it may be you have to be an employees to 'get it' this is a good thing as it shows your all united you all understand what's been going on in the company, just made for Internal Comms with their finger on the pulse.

How the author's brief develops into the cartoon, it can be a list of facts and fiction to combined in to one drawing, current goings-on's, maybe you have a joke that needs illustrating. I start with a rough first draft, we talk, we change or add stuff, when you're happy I make the artwork in black ink, I can colour it up if required, I can animate it to a sound track, this is a great way to bring a process or tutorial to life keeping the viewers attention.

A private joke that only one department will truly understand creating interest from everyone, prompting interaction and engagement from others.

Private joke - See what I mean?
Many different seasonal reasons to make people smile, linked to work so sharing a common ground, a reminder to what's on in a witty or just silly cartoon to send you on the way home.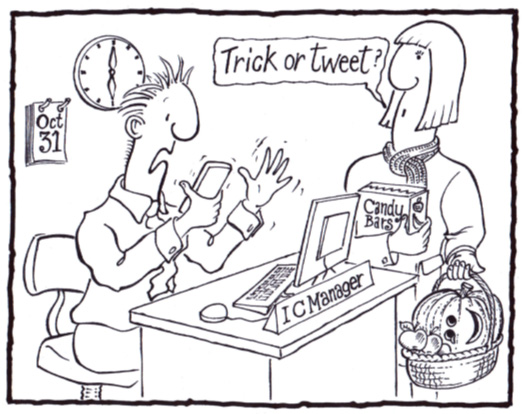 A writer can engage and inspiring people through compelling stories and analogies.
A cartoonist can illuminate, embellish, adorn, enhance, highlight.
I don't think there is any subject that can't be made into a cartoon?

Tim Ruscoe